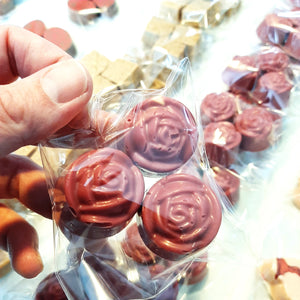 With the same exquisite mouthfeel as melted milk, white and dark chocolates, Ruby Chocolate differs in it's unique & divine flavours! Resembling delicious red fruit flavours, Ruby Chocolate has bright berry notes due to it's shorter fermentation time and treatment with Citric Acid.
Ruby Chocolate's natural beauty comes from carefully selected red cocoa beans which create it's natural pink colour! No added colours or flavours! 
The perfect gift of elegance and experience! 
*Packaging in clear cello bags. For fancier gift box options, click here
*Allergies beware: This product contains dairy and is made in an establishment that hosts dairy, peanut, tree nut, wheat, soy & eggs*