Quick Shop! - halloween chocolate
vendor events coming up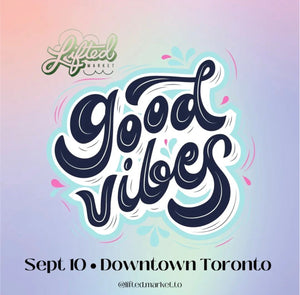 "Good Vibes" - Lifted Market TO
Sunday September 10th, 2023 - 12pm - 4pm
Location: TBA
"Come out for a fun afternoon with the community! Celebrate the love of green with the community."
Got the munchies? Shop our NON-INFUSED Hot Shot Chocolate products at this local market!
Lots of giveaways and awesome raffle! Raffle includes non-infused Hot Shot Chocolate prize!
Buy Tickets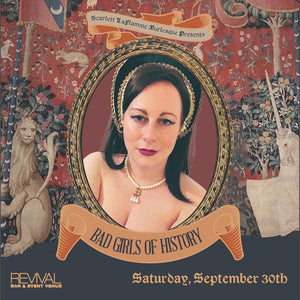 "Bad Girls Of History" - Scarlett La Flamme Burlesque
Saturday September 30th, 2023 - 6pm
Location: Revival Bar - 783 College St. Toronto, ON
*Shop Hot Shot Chocolate when doors open & during intermission! Lucky raffle prize winner receives Chocolate prize!
"Bad Girls of History: A Burlesque TributeWell-behaved women seldom make history. - Laurel Thatcher Ulrich

Women have had disproportionate rules and limits placed on our behaviour and the way we live our lives in patriarchal societies for too big a chunk of history. If we step out of line and dare to rebel against these social codes, we are told that weve caused and deserve any consequences imposed on us. But to dare to step out of line and rebel has historically been the only way for women to claim agency and the chance to live extraordinary lives  ones that echo through centuries, inspire generations, and sometimes change the course of history. This is not a show about good girls, but its also not a show about true villains. Youre not going to see any swastikas here. This is a show celebrating messy, complicated, brave, rebellious women who made an impact by refusing to be meek and subservient. And what better way to celebrate them but through the only art form that truly applauds women behaving the opposite way to how were supposed to in public: burlesque!

STARRING a cast of badass babes:

ArraKiss
CoCo La Crème
Cooter Nipplestein
Helen of Tronna
Red Tongued Raven
Rubie Magnitude
Scarlett LaFlamme
Sugar Holiday
Tanya Cheex
and
Thrasher

PRODUCED & HOSTED BY: Scarlett LaFlamme

DJ: Johnny B. Goode
Buy tickets
"Friday The Stripteenth" - PeepShowTO
Friday October 13th, 2023 - 8pm

Location: The Great Hall - 1087 Queen St W, Toronto, ON
*Shop Hot Shot Chocolate when doors open & during intermission! V.I.P & Lucky raffle prize winners receive Hot Shot Chocolates!
"Boo! The most wonderful season of the year is creeping up, and PeepshowTO has summoned all your favourite Halloween characters for an evening of burlesque inspired by classic Halloween movies and TV. 
You are invited to join this ghastly cast of beloved on-screen witches, devils, murderers and monsters in a burlesque romp wild enough to raise spirits! 
Performances by:
Betty Quirk
Charlie Quinn
Coco Framboise
Dolly Berlin
Dr. Orifice
Ivory
Kage Wolfe
Majestic Maehem
Peachy
The Amoks (Bianca Boom Boom, Fannie Fullenweider & Lil Bow Puddin')
Travoy In The Flesh
Zilly Lilly
Zyra Lee Vanity 
& More!
Hosted by Velvet Valhalla & Ajay Fry"
Buy Tickets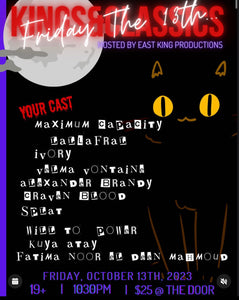 "Kings & Classics - Friday the 13th" - East King Productions
Friday October 13th, 2023 12pm - 10:30pm
Location: Buddies In Bad Times Theatre - 12 Alexander St, Toronto, ON
*Shop Hot Shot Chocolate when doors open & during intermission! Lucky raffle prize winner receives Hot Shot Chocolates!
"The Halloween edition of Kings and Classics is our absolute favorite show and the best time of year! We have an amazing line up for you Folx this year and are so excited to host you. This years Halloween show falls on Friday the 13th so you already KNOW we have some special things lined up for you!

Costumes are always fun ;)! Best costumes will win free tickets to our Friday, January 19th, 7 year anniversary show + more!

Cast:
IVORY
ALEXANDER BRANDY
MAXIMUM CAPACITY
WILL TO POWER
CRAVEN BLOOD
SPLAT
FATIMA NOOREL DEEN MAHMOUD
LALLAFRAL
VELMA VONTAINE
KUYA ATAY"
- Tickets: 25$ (At The Door ONLY)
Welcome to Hot Shot Chocolate!
Premium, Handcraft, Chocolates & Events
We hope you'll visit our Online Chocolate Shop filled with our fresh, hand made chocolates! You can customize any product to be made in your favorite chocolate!
We make all chocolate orders fresh for you! This may require up to 72 Hours to produce (sometimes up to 1 week during busy seasons). Please consider placing your orders early to give ample time for production. Chat or email with us anytime to discuss desired dates and we will always do our best to accommodate!
View our Chocolate Event options where we eat, treat and create in our fun, edutaining workshops and events!
View our Bridal & Wedding chocolate gifts and event options! We've got something for everyone!
Would you like to know more about Hot Shot Chocolate? Please visit our About Us page!
Have a question? Contact us or view our FAQ page!
We hope you enjoy exploring!
Contact Us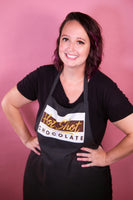 Hot Shot Chocolate made with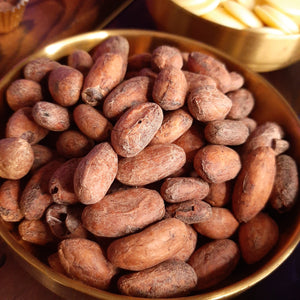 100% Sustainable & 100% Traceable Cocoa Beans
Hot Shot Chocolate products are made with premium couverture chocolate made from ethically sourced cocoa beans from 3 countries: Ivory Coast, Ghana & Ecuador.
Anually audited through the independent non-profit organization - Cocoa Horizons. www.cocoahorizons.org
Cocoa Horizons improve the livelihoods of cocoa farmers and their communities through the promotion of sustainable, entrepreneurial farming, improved productivity, and community development, which protect nature and children.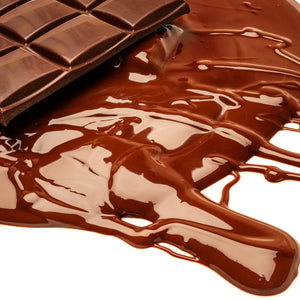 Premium Couverture Chocolate
Hot Shot Chocolate produces only high quality chocolate products made with premium couverture chocolate.
Couverture chocolate is considered a very high-quality chocolate that contains a higher percentage of cocoa butter. Cocoa butter is what gives chocolate its unique mouth-feel and stable properties.
To be considered "real" chocolate, a chocolate product will contain only cocoa butter as its fat source, not any other fat substitute. Chocolate that replaces cocoa butter with fats like palm oil are called "compound chocolate" and are considered more of a candy than true chocolate.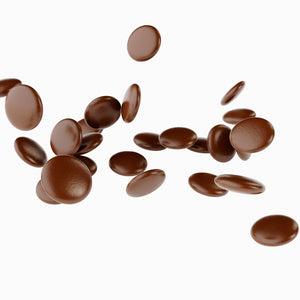 Hand Tempering Techniques
Hot Shot Chocolate products are all handcraft, hand tempered in small batches to ensure the highest of quality and attention to detail in every order.
Tempering chocolate is a heating and cooling technique while agitating the cocoa butter content within the chocolate to entice the fatty acid crystals of cocoa butter back into one stable form.
The benefit of chocolate tempering creates a shiny exterior, smooth texture & satisfying snap in every bite!
Learn more about Chocolate Tempering in our Chocolate Making 101 workshop!
MOBILE CHOCOLATE EVENTS THAT COME TO YOU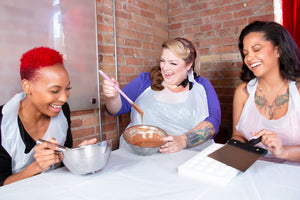 Corporate Team Building, Bridal Parties, Family Workshops & More!
Hot Shot Chocolate brings everything needed to create a memorable chocolate experience for you and your group!
Choose your favourite Hot Shot Chocolate Program:
Chocolate Champions
Chocolate Making 101: The Fundamentals of Tempering & Molding
Chocolate Making 102: Truffles, Truffles Truffles!
Chocolate Tasting Experience
Edible Paint Night
Wine or Alcohol Pairing
Kids Birthday Parties
Classic Bridal Experience
Novelty Naughty Chocolate Bridal Experience
Live Demonstration Sampler Stands
Looking to venture out to a venue for your event? Contact us to see a selection of venue rental options we partner with!
Questions & Bookings Contact: kelly@hotshotchocolate.com
Hot Shot CHocolate recent Event Reviews
Thank you Kelly, Chocolatier Extraordinare, for hosting such a fabulous girls event for us. Your professionalism ensured we planned the best event for our group, including accommodating dietary limits. Your Chocolate Champions Games was so fun because of your engaging and entertaining presentation. Our group had a great time, learned quite a bit about chocolate and thouroughly enjoyed your chocolate bonbons and bars! (February 3, 2023)

Kelly Sharpe
I had Kelly host a chocolate workshop for my daughter's 5th birthday party and it was the most absolutely INCREDIBLE experience for everyone. There were 10 kids ages 3-6 and Kelly thought of EVERYTHING. There was a chocolate storytime, different ways for the kids to make their own chocolate treats and Kelly was SO SMART OMG to pack up all the treats the kids made, for them to neatly take home instead of eating it all in one go. There were adults and kids there and every single person was so happy. I 100% recommend Kelly and Hot Shot Chocolate for any of your events, whether it's for kids or adults or anyone in between. What a delightful human to have in your space. (February 4, 2023)

Shannon Ariel
WEDDING & BRIDAL CHOCOLATE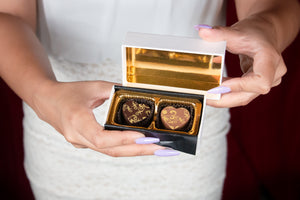 Wedding Favours & Gifts
Select your favourite flavours & designs to feature in your custom chocolate bonbon favours!
Contact Us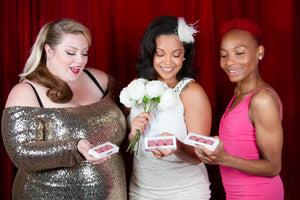 Chocolate Bridal Events
Spoil your bride and her loved ones with a Hot Shot Chocolate Bridal Event!
Choose a Classic program (All ages) or our Novelty (Naughty) Chocolate program! (Ages 19+)
Book Now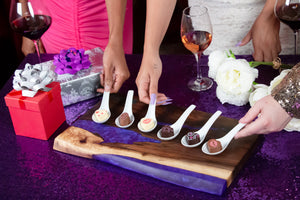 Chocolate Catering Events
Add the elegance of Hot Shot Chocolate catering to your special day! Choose from a variety of chocolate delicacies to impress your guests, customized options available! Contact us to view full menu options & pricing.
Contact Us
Hot Shot Chocolate testimonials
Hot Shot Chocolate is that melt in your mouth goodness that everyone wants in a chocolate! It's fun, it's flirty and it's the MOST delicious!

PrettyRiikkii, East King Productions
Hello review reader,

I'm Shayne and I'm a professional with a belief that life should be filled with the best and only things that make me happy. Hot Shot Chocolate is the place I go for gifts and my place is always stocked with a variety of Hot Shot Chocolates that suit a late night craving or a nice chocolate with my breakfast. I can't say enough lovely things but know that you won't be sorry trying an assortment from here. And if you do, send them my way!

L Shayne
You know how chocolate's that have been molded into shapes often taste waxy and a little off? This chocolate is SO not like that! You can have fun/quirky themed shapes and still have it taste good! The chocolate itself is delicious, then Kelly infuses incredible complimenting ingredients like caramel, sea salt & nuts into them that just add to the experience! I'm a chocolate lover! Trust me - if you haven't tried Hot Shot Chocolates, do yourself a favour and get some now! It'll make your day!

Belle Jumelles
Hot Shot Chocolate is truly amazing! We held a kids chocolate party and it couldn't have been any more fun! Hands on, delicious chocolate, expert tips and of course taste testing. Great for a small or larger group. Kids enjoyed it so much and really got a chance to create their own little chocolate masterpieces and flavours. 

Highly recommend for any occasion!

Stacey Milliken-Shields
In all honesty, I was never a hard-core fan of chocolate. I had a mediocre relationship with this popular confection until I tasted the supreme quality of Hot Shot Chocolates! Kelly's master Chocolatier skills elevate Hot Shot Chocolate to another level; this is truly an experience for the senses! Choosing your favorite treats from a large assortment of designs is half of the fun. Hot Shot Chocolate offers an array of flavours, all crafted from couverture Belgian chocolate. It's the unique gift of smooth, rich decadence, handmade locally in Toronto!

Fatima Mechtab www.planningismypassion.com
We brought Hot Shot Chocolate on board as a sponsor & vendor for our events after hearing of their wonderful reputation from a number of folks in our burlesque community. Once we tried their chocolate - we were hooked! We have had them back to vend at every event since for the past 2 years and have extended an invite to any future events! They are a huge hit with our audience as a vendor and also provided samples for our V.I.P swag bags as a sponsor and we hear so many compliments about their goodies all the time! Our audience especially loves the novelty of the erotic shaped chocolates! We love that Kelly is so professional, passionate and fun to work with and her product is seriously addictive - we are sure to stock up on chocolate ourselves every time they vend at our shows!

Betty Quirk - Co-Founder & Co-Producer of PeepShowTO www.peepshowto.com
Taking the Hot Shot Chocolate workshop taught me things about chocolate that I never expected! Such a wonderful opportunity for something fun, creative and you get to eat what you make at the end! Kelly is a patient and kind instructor and I could listen to her talk all day!

Aggie Panda
Dear Kelly,

My kids were so impressed with the Halloween 6-pack and savoured every piece! As they were unable to go trick-or-treating this year, I wanted to do something spooktacular and your chocolate bonbons were a scream! As they didn't have any candy for me to steal, your Dark Chocolate Almond Bar was just what I needed!

Thank you for all the yumminess!

Adrian, Athena, Penelope and Pavlina (a.k.a Best Mom ever!)
Hot Shot Chocolate has the BEST tasting chocolate made with the frestest, all-natural ingredients. I had the pleasure of attending a Make Our Own Chocolate Workshop and had a great time! Kelly's enthusiasm and passion for chocolate was irresistible. Not only did I learn tons about chocolate, but I got to take home a tasty treat bag as well. Kelly is also a pleasure to work with and is always willing to customize an order to meet my individual needs. I completely recommend Hot Shot Chocolate!

Sass E Silver