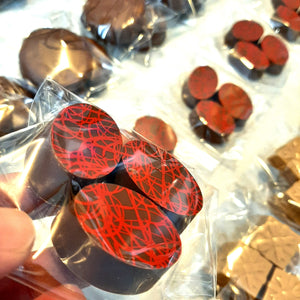 Heat things up with our Hot Creamed Honey Chocolate Bonbons - the sweet and spicy chocolate tasting experience to wow you and your love's tastebuds!

We've taken hot pepper infused creamed honey and enrobed it in our premium milk chocolate which gives off a slow heat and cool down sensation!
Please use the drop down menu's to select your chocolate type.
*Packaging in clear cello bags. For fancier gift box options, click here
*Allergies beware: This product is made in an establishment that hosts dairy, peanut, tree nut, wheat, soy & eggs*